Here's Demi..Admittedly, I have not been too kind to Demi as she undertook quite a few actions that were questionable, if not downright stupid. When Demi goes at least they won't have to worry about body deterioration as she will last for at least a half life of 500 years depending on rate of decay and factoring in the disintegration constant..
Demi wants Moore....
Demi-glazed More Moore..
Demi Flashing Moore..
I even warned her what would happen if she continued with a young stud. He would wear her out, but did she listen. maybe..So now she is open to more ridicule and admonishment as she takes on the role of one of the most loathed, obnoxious male hating feminist this planet has seen. The Steinem story is about as interesting as watching a replay of the bubonic plague but back then there would have been no colour..
Toy boy hubbies bad for health..
Demi could not be Moore opposite even if she had not indulged in a complete body restructorotonomy. But it was a choice she made at the same expense of feeding about half a million starving Africans for a year, but one must maintain one's priorities ofcourse..
So in reality, her and Steinem are ideally suited and she should just play herself..
Why Demi Moore's latest role could be her funniest yet
The news that Demi Moore is to play pioneering feminist Gloria Steinem is another hilarious example of miscasting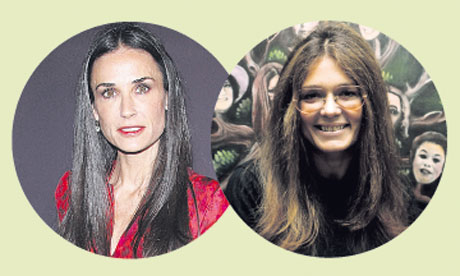 People will tell you Hollywood has run out of ideas, but in the area of casting it constantly innovates. How else to greet the news that
Demi Moore
will play
Gloria Steinem
in a forthcoming film? Seriously, how the hell else?
"What scares me," she explains in an interview to accompany various shots of her in swimwear and evening dresses, "is that I'm going to ultimately find out at the end of my life that I'm really not lovable, that I'm not worthy of being loved. That there's something fundamentally wrong with me … and that I wasn't wanted here in the first place ..." A genuinely sad sentiment, poor thing – but half close your eyes, and you couldn't exactly be listening to Steinem.